Central America: The next growth market?
February 08, 2016
By Diego Gallegos
Investment in South America is drying up as demand for commodities weakens, but because Central America is a commodity importer rather than exporter, its prospects look increasingly promising. 
A new US $750 million aid package and a separate "Clean Energy Facility" will catalyze opportunities for investors in energy and infrastructure projects.
A slowdown in Asian economies upended a long-running bull market in commodities. The decline on commodity markets has reverberated noticeably in South America, where countries rode the commodity boom to impressive levels of growth. Now many South American countries, including Brazil, Chile and Venezuela, are experiencing the effects of this decline. 
The commodity boom brought major opportunities for infrastructure and energy deals. Mining, energy, and oil and gas projects took off in places like Chile, Peru, Brazil and Colombia. However, as the boom recedes and investments in these areas dry up, investors will be looking for opportunities elsewhere. 
Central American economies, unlike their South American counterparts, are not commodity driven and, as importers, they benefit from low oil and raw material prices. Furthermore, while South America became dependent on China's growth and its thirst for natural resources, Central America's fate continued to be linked to the United States' economy. This might not have been a solid proposition in 2009 and 2010, but today, as the US economy shows encouraging signs of recovery, Central America is benefiting from such growth. In fact, according to the World Bank's Global Economic Prospects, Central American economies are expected to grow faster than South American ones through 2018. 
For infrastructure and energy projects, Central America is full of opportunities for investors. Multilateral agencies, foreign governments and the countries themselves have zeroed in on the region's infrastructure deficiencies as the main challenge to the region's economic competitiveness. The improving economic fundamentals and increased interest by foreign governments and multilateral agencies in Central America will boost development of roads, airports, power plants, power distribution lines, natural gas pipelines and LNG terminals. Projects in the region already include important infrastructure investments such as the $5.2 billion expansion of the Panama Canal, the $1.6 billion Mexico-Guatemala-Honduras natural gas pipeline, and the $1 billion Costa Rica-Moin container terminal.
Two sources of US government funding should serve as a catalyst to an already booming infrastructure and energy sector. One is a $750 million dollar aid package that the US Congress approved in December for Guatemala, El Salvador and Honduras. The other is the Clean Energy Finance Facility for the Caribbean and Central America run by the US Agency for International Development (USAID). 
New US Aid Package
The $750 million aid package is an attempt to improve economic conditions in Guatemala, El Salvador and Honduras to reduce immigration into the US from the region.  
The funding will be managed by the US Department of State and distributed to agencies such as USAID and the Inter-American Development Bank (IDB). The funds are expected to advance the goals of the Alliance for Prosperity in the Northern Triangle, an IDB program created to stimulate economic growth, reduce inequality, promote educational opportunities, target criminal networks responsible for human trafficking, and help create governance and institutions in the three countries. The program emphasizes the importance of improving economic development and competitiveness by lessening dependency on fossil fuels for power generation and improving infrastructure and logistics corridors.
USAID will use its share of funding to make grants. The IDB will provide loans to support country strategies in each Northern Triangle country. 
Guatemala, El Salvador and Honduras are burdened with the most expensive electricity in Latin America as a consequence of their dependency on fossil fuels for power generation. In 2014, 46% of electricity in these countries was generated using fossil fuels. The Obama administration, the IDB and the countries themselves have identified this dependency as a major issue to be tackled by the aid package, which creates opportunities for various projects. 
Four energy projects have been identified as a priority by the Alliance for Prosperity. All are government owned, but will create opportunities for other projects to be undertaken by the private sector. 
One is doubling the capacity of the electricity grid in Central America (SIEPAC in Spanish) from its current 300-megawatt capacity to 600 megawatts. SIEPAC is a 1,800-kilometer line consisting of 15 substations and 28 access bays running from Guatemala to Panama and facilitating a regional electricity market. Plans are also in place to extend the line to Mexico and Colombia.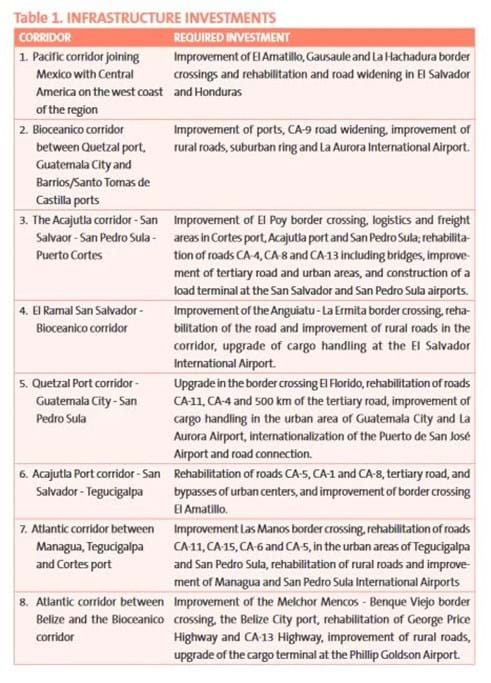 The next priority is investment in national transmission lines to achieve the operational transmission capacity of 300 MW in SIEPAC which has not been achieved yet because of lack of improvements and reinforcements of national transmission lines.
The third project is construction of the Salina Cruz (Mexico)-to-Escuintla (Guatemala) natural gas pipeline.
The fourth project is construction of a regasification plant for importing natural gas as LNG into El Salvador, Guatemala and Honduras. 
On the infrastructure side, the Alliance for Prosperity is focused on eight logistics corridors based on their potential to facilitate trade and economic activity among the countries. Table 1 shows the eight projects.
Clean Energy Facility
Another potential source of interest for investors interested in renewable energy projects in the region is the financing available under the USAID Clean Energy Facility for the Caribbean and Central America. This is a $20 million dollar facility supported by four US government agencies: the Department of State, USAID, the US Trade and Development Agency (USTDA) and the Overseas Private Investment Corporation (OPIC). It functions as a grant facility when support is provided by USTDA and USAID, and a loan or loan guarantee support when support is provided by OPIC.
The facility was launched in 2015 and is available for two years.  Its aim is to provide early-stage financial assistance to clean energy projects in Central America and the Caribbean. 
Grant and loan funding is available for project developers and host country public- and private-sector project sponsors for clean and renewable energy projects in power generation, sales and distribution of small-scale clean energy systems and products that provide access, or extend the hours of access, to electricity and renewable energy infrastructure catalyzers such as financing and leasing facilities. 
The funds can be used for early-stage costs such as engineering costs associated with project design, technology assessment and overall feasibility studies, legal costs for preparation of documentation related to permitting, power purchase, EPC, O&M and financing agreements, consulting costs for the preparation of environmental and social impact studies and third-party costs associated with physical and technical analysis of renewable energy resources.
To qualify for funding, the project must have clear social and economic benefits, with processes in place to monitor and evaluate these benefits, a positive impact on energy access, security, poverty alleviation, gender inclusion and consistency with the USAID program in the country where the project is located, and support low emissions development in Central America and the Caribbean. 
The maximum grant available for a single project is $1 million (in the case of USAID grants), so long as the amounts do not exceed 3.6% of the total project cost. USAID says that applications take approximately 90 days to process and that there is no associated filing fee.