The Bureau of Ocean Energy Management ("BOEM") is accepting comments until January 27, 2019 to its call for information and nominations for commercial wind leases off of the coast of California. BOEM identified three areas (Humbolt, Morro Bay, and Diablo Canyon) totaling 687,823 acres depicted below off of the coast of Northern and Central California that may be made available for commercial wind projects.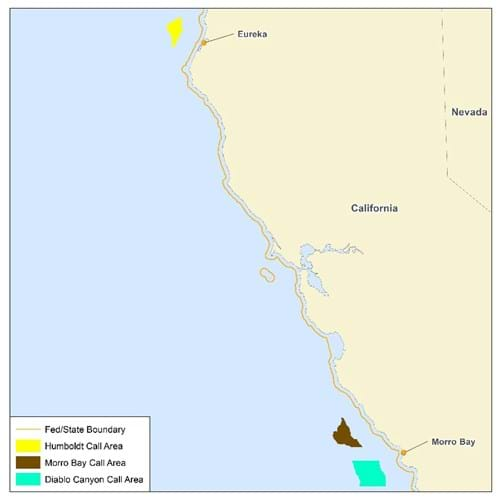 Source: BOEM (https://www.boem.gov/uploadedImages/BOEM/Renewable_Energy_Program/State_Activities/CA/CA_Call_Areas_10_16_2018.jpg?n=7732)
BOEM wants to determine that there is commercial interest in these areas. If there is, BOEM will study the potential environmental consequences of development in these areas. If more than one qualified party expresses interest in the same area, then BOEM may proceed with a competitive auction leasing process. If a single qualified party expresses interest in an area, BOEM may go forward and lease the area through its noncompetitive process. Either process involves public input and requires detailed environmental studies. It's also important to understand that BOEM's issuance of an offshore lease does not equate to BOEM approval of a particular project. Issuance of a lease just means that the lessee has the exclusive right to seek BOEM approval to assess the site and construct a project.
The waters to be developed off of the shore of California are generally deeper than off of the shore of the east coast states like Massachusetts. As a result, the turbines will need to be constructed on floating foundations (see examples below) as opposed to foundations fixed to the ocean floor.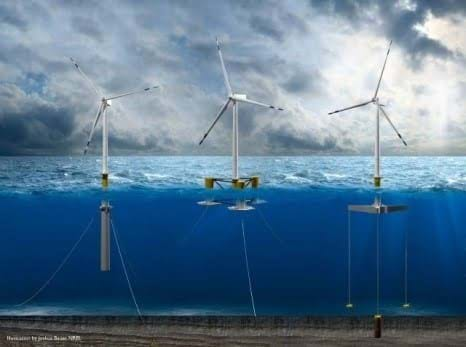 Source: See United States Department of Energy, Wind on the Waves: Floating Wind Power is Becoming a Reality (showing offshore wind floating substructure designs: spar buoy (left), semisubmersible (middle), and tension-leg platform (right))(available at https://www.energy.gov/eere/articles/wind-waves-floating-wind-power-becoming-reality)
Floating foundation technology is still new, so development using this technology has trailed behind the advancement of other offshore wind projects like Vineyard Wind off of the shore of Massachusetts. That is not to say that developers are not interested. Trident Winds, LLC submitted an unsolicited lease request offshore of the Morro Bay area in January 2016 and separately, the Redwood Coast Energy Authority submitted its unsolicited request to lease an area off the shore of Humboldt County.